Organizing a fundraiser for an elementary school is a rewarding experience that benefits both the school and the community. One of the most popular and engaging types of fundraising events is a race for education, which involves participants running or walking a course to raise thousands of dollars for the school.
However, planning a successful race for education can be a daunting task. That's where RunPTO comes in – a comprehensive platform that provides modules to help you organize a race for education fundraiser with ease. In this blog post, we'll walk you through the steps to plan and execute a successful race for education fundraiser using RunPTO modules.
We'll cover topics such as creating a fundraiser form, email blasts, recruiting volunteers, planning the race, and hosting the event.
Let's dive in and get started!
Step 1: Create a Committee for the Race for Education Fundraiser
The first step of organizing a Race for Education fundraiser is to form a committee to oversee the planning and execution of the event. This committee with the chair and co-chairs will be responsible for coordinating all aspects of the fundraiser, from securing sponsors and volunteers to promoting the event and managing logistics.
Once the committee is formed, it is essential to establish clear roles and responsibilities for each member. This will ensure that everyone is on the same page and has a clear understanding of their tasks. Regular meetings should be scheduled to ensure that progress is being made and to address any challenges or concerns that arise.
With a dedicated and organized committee in place, the Race for Education fundraiser will have a solid foundation to build upon and increase the likelihood of achieving its fundraising goals.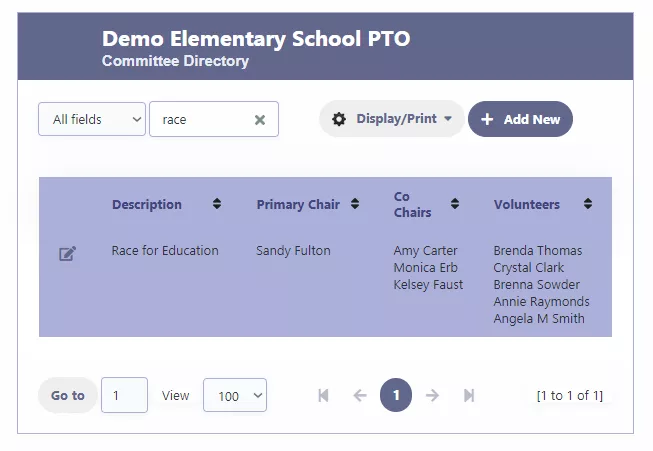 Step 2: Set Fundraising Goals and Choose a Race Type
The first step in organizing a successful race for education fundraiser is to set clear fundraising goals and choose the type of race that will best suit those goals. It's important to determine how much money you want to raise and how you plan to allocate those funds.
Next, consider the type of race you want to organize. Options include a Lap-a-thon, Jogathon, a fun run or walk, or a virtual race. Each type has its own benefits and challenges, so it's important to choose the type that aligns with your fundraising goals and is most likely to attract participants and donors.
Once you've set your fundraising goals and chosen the type of race, you can start planning the logistics of the event. RunPTO offers a range of tools to help you plan and execute your race with ease.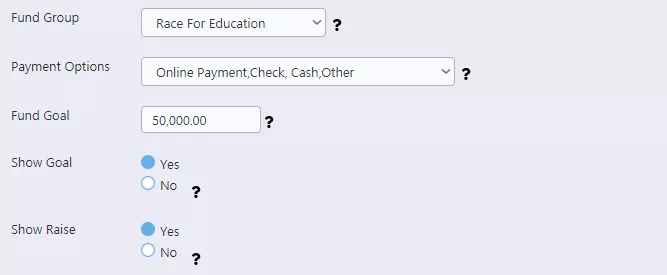 You can use RunPTO's Email Blast to send the Race Plan to the Board Members.
Step 3: Set a Date and Location
The next step in organizing a race for education fundraiser is to set a date and location for the event. The date should be chosen with care, as you want to ensure that as many people as possible can attend. Weekends are typically the best time for events like this, as most people are free from work and other obligations.

Enter the event in your RunPTO Calendar.

The location of the race should also be chosen carefully. Ideally, you'll want to select a location that is easily accessible for participants, such as a local park or school track. Make sure to obtain any necessary permits or permissions before finalizing the location.
Step 4: Recruit Volunteers and Plan for the Event
Volunteers are a crucial component of any successful fundraiser event. It's essential to recruit a team of volunteers to help with tasks such as setting up and taking down the event, registering participants, providing refreshments, and managing the course.
To recruit volunteers, you can create a volunteer signup form using RunPTO. This form can be added to your PTO's website, shared through email or social media, and distributed to parents and community members. RunPTO makes it easy to track volunteer signups and assign tasks to volunteers based on their preferences and availability.
Step 5: Create a Fundraiser Form in RunPTO
RunPTO is a fantastic platform that makes organizing a fundraiser for education easy and hassle-free. The first step is to create a fundraiser form in RunPTO. This will allow you to collect donations and registration information from participants.
To create a fundraiser form in RunPTO, simply follow these steps:
Log in to your RunPTO account.
Click on the Signup Form tab in the menu.
Select Form Type as "Fundraiser"
Fill out the form with details about your fundraiser, including the event name, date, and location.
Provide a good description.
Create the product (Lapathon, Jogathon etc) and attach the store to the form.
Add any custom fields you may need, such as t-shirt size , participation student name, grade, teacher etc.
Preview the form to make sure it looks the way you want it to.
Publish the form so that parents and other family can donate.
Add this form to your PTO Website, pin the print QR Code to the school's bulletin board.
Step 6: Email Blast to All Parents in Student Directory or Entire Membership
Once you've created your fundraiser form in RunPTO, it's time to spread the word to the community. One effective way to do this is by sending an email blast to all parents in the student directory or the entire membership.
RunPTO offers several email templates that you can choose from to make your email blast more engaging and professional. To send an email blast using RunPTO, simply follow these steps:
Log in to your RunPTO account.
Click on the "Emails Blast" option.
Choose the Race for Education email template.
Change the email subject and content as per your requirements.
Choose the recipients, either by selecting all parents in the student directory or the entire membership.
A placeholder for x:addrelative can be included to provide the recipient with a link to add their relatives.
Preview the email to make sure it looks the way you want it to.
Send the email blast.
Send a another email blast after all the relatives are added.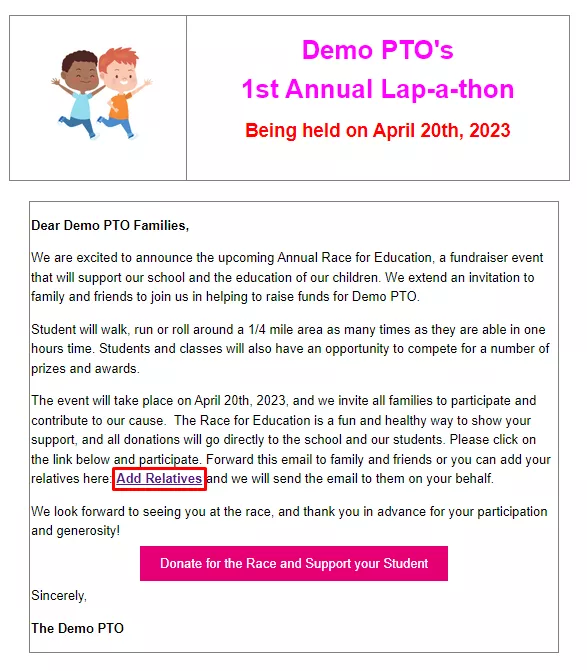 Step 7: Plan the Race
With the fundraiser form, email blasts, and volunteer recruitment complete, it's time to plan the race itself. This includes details such as the race route, start and finish lines, and any refreshment stations.
Create a race map using the Google's mapping tool.
Step 8: Host the Race
Finally, it's time to host the race. On the day of the event, make sure to have all the necessary materials on hand, including race bibs, t-shirts to hand out and any necessary equipment for setting up the course.
During the race, it's important to keep participants and volunteers safe and engaged. This may involve setting up safety barriers, having volunteers direct traffic, or providing water and snacks along the course.
After the race, make sure to collect any outstanding donations and thank all participants and volunteers for their support.
Step 9: Check Funds Collected, Get Expenses Reimbursed and Budget for PTO Activities with the Collected Funds
Once the race fundraiser is over, it's important to review the funds collected and ensure they are allocated appropriately. Using the fundraiser report, you can determine the total amount raised.
Also there would be out of pocket expenses incurred during the event. The fundraiser chair should send any expense receipts incurred during the event to the treasurer for reimbursement. Once all expenses have been reimbursed, the remaining funds can be budgeted for various activities that the parent teacher organization will conduct over the year or next year.
It's important to have a clear plan for how the funds will be used and communicate this to the PTO board, members, and the school administration. This will ensure that everyone is aware of how the funds will benefit the school and help to build trust and support for future fundraisers.
Overall, by following these steps, your parent teacher organization can plan and execute a successful fundraiser and raise much-needed funds to support your school's programs and activities.
Conclusion
In conclusion, organizing a race for education fundraiser for elementary school kids is a great way to engage the community and raise money for a good cause. By using RunPTO modules, you can streamline the process and make it easy for participants to register and donate online. With a few simple steps, you can create an engaging and successful fundraiser that benefits your school and community.