As the calendar flips to August 2023, Parent Teacher Organizations (PTOs) across the nation gear up for the annual task of enlisting volunteers for their various committees. This crucial process ensures the smooth functioning of school events and activities throughout the academic year. Fortunately, RunPTO offers an efficient solution to this task with its predesigned and customizable committee volunteer signup form, designed to simplify the entire volunteer recruitment process.
Start with Adding Your Committees:
In the Committee module of RunPTO, PTOs can create and manage committees effortlessly. Begin with the creation of your committees. Specify the number of volunteers required for each committee, add a brief description, and provide a comprehensive long description detailing the roles and responsibilities. With your committees and volunteer needs defined, the customizable form is all set and ready for action. When a volunteer signs up, the system automatically reduces the available slots, allowing accurate tracking of committee vacancies.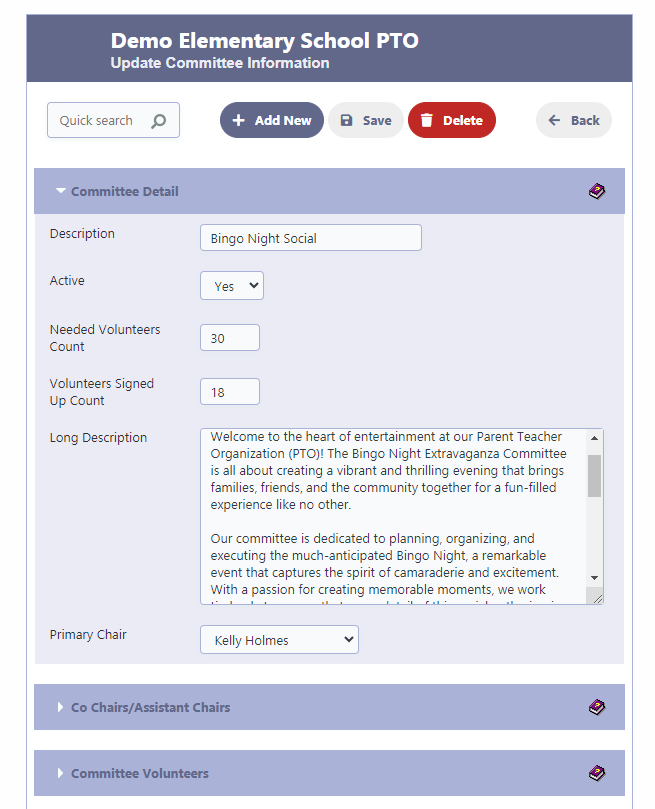 Flexible Customization:
You can also personalize various aspects of your form to align with your PTO's identity and requirements. Modify the header to reflect your event or organization, fine-tune the titles of details to make them more intuitive, and customize the committee section to accurately represent the roles available. Additionally, you have the option to craft a tailored message section that communicates important instructions or additional information to your potential volunteers.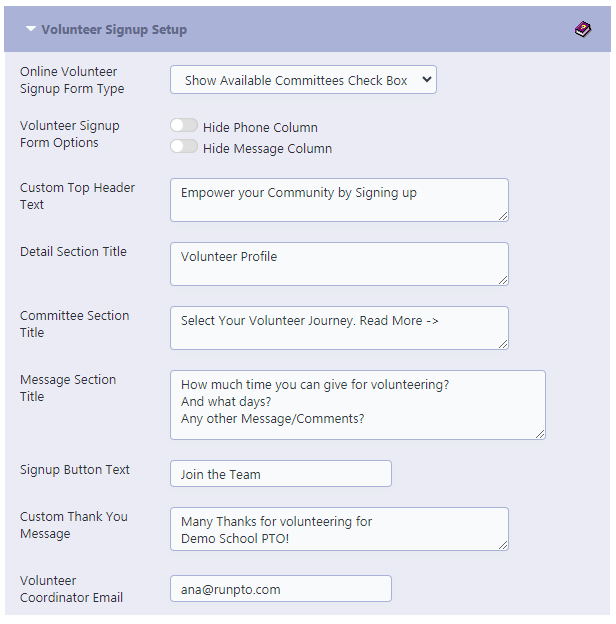 User-Friendly Interface:
RunPTO's intuitive user interface ensures a smooth experience for volunteers. The form captures essential details such as name, email, and phone number and the committees they are volunteering for, simplifying the registration process. Moreover, administrators can customize the header description, section titles, and even the message box title, creating a cohesive and branded experience for volunteers.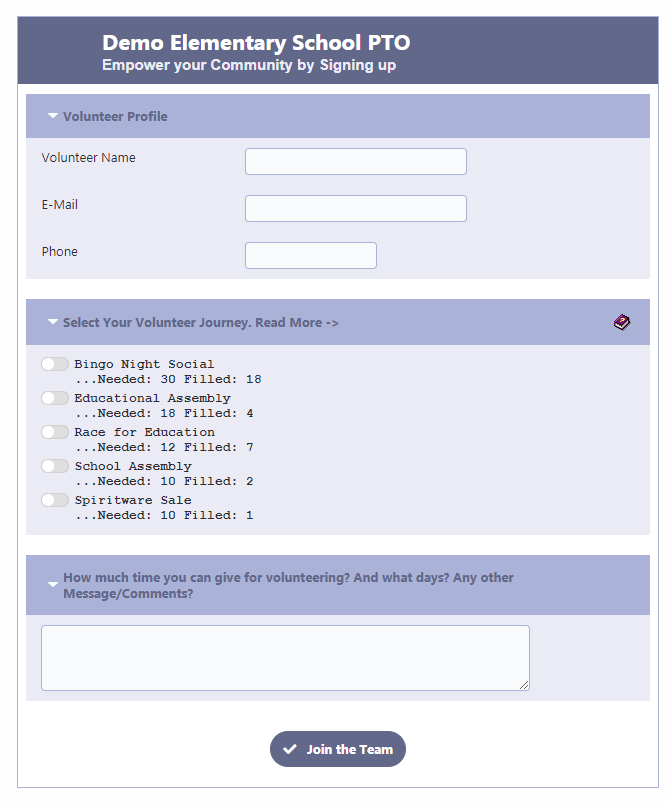 Enhanced Information Access:
For further clarity, the long description associated with each committee is readily accessible. Volunteers can simply click the help button to access this information, ensuring that they are well-informed about the roles they're signing up for. This transparency fosters a sense of confidence and engagement among volunteers.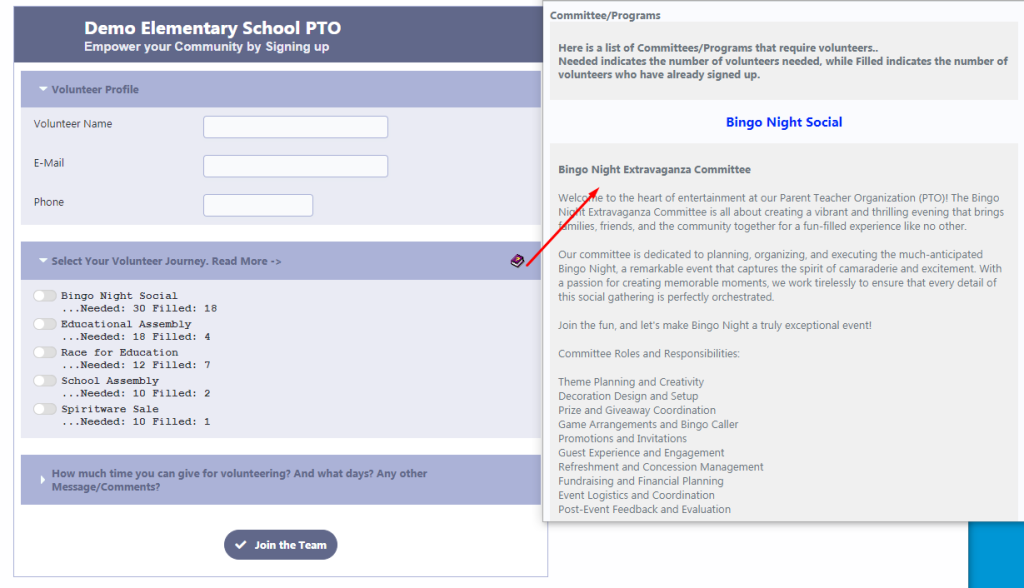 Versatile Distribution Methods:
Distributing the volunteer signup form is a breeze with RunPTO's versatile options. PTOs can share the form using URL links, QR codes, or even embed it directly onto their organization's website. This accessibility ensures that potential volunteers can easily find and complete the form, enhancing participation and engagement.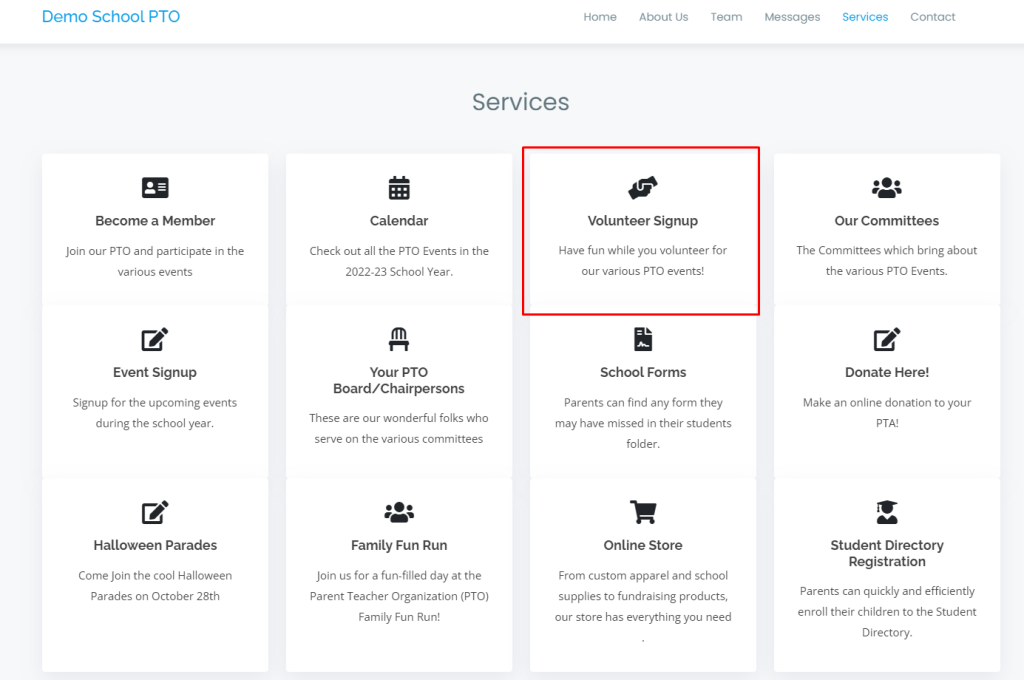 Simplified Reporting:
One of the standout features of RunPTO's volunteer signup form is its seamless reporting capabilities. PTO administrators can effortlessly generate volunteer list reports, providing an overview of the committed individuals. This streamlined reporting saves time, allowing PTOs to quickly identify volunteers, allocate responsibilities, and plan events more efficiently.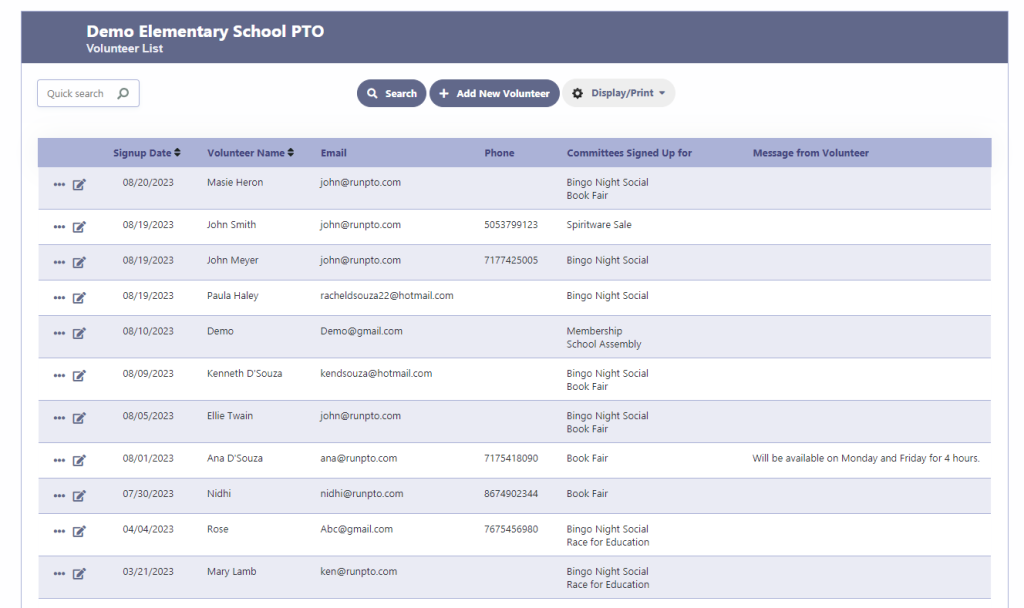 Conclusion:
With RunPTO's customizable committee signup form, the annual task of recruiting volunteers becomes a seamless and efficient process. By offering customization, versatile distribution methods, simplified reporting, and an intuitive user interface, RunPTO empowers PTOs to focus on their core mission—enriching the school experience for students and parents alike. Streamline your volunteer recruitment process with RunPTO and make this school year the best one yet.