The end of a fiscal year is a busy time for accounting and graduating students in your Student Directory. You need to close the books on the current fiscal year and prepare for the next. Properly handling these tasks will ensure that you can transition from one year to the next smoothly.
Click on Yearly Transition in the Administration section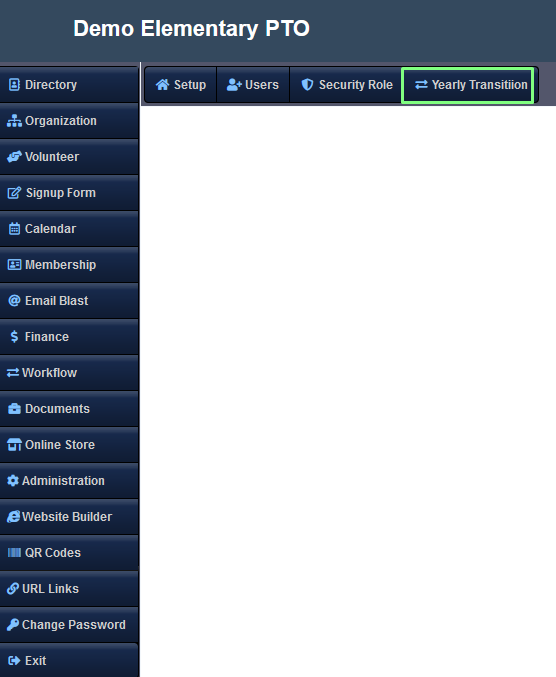 The Yearly Transition process allows you once a year to transition the students to a new grade and do cleanup. It will also change the financial settings in the Finance module to the current year. It has to be done once the school year is completed.
You do not have to do it right away as soon as the Fiscal Year ends.
e,g The current fiscal year is 2021-22 and financial start date is 7/1/2021 and end date is 6/30/2022.
You will be able to run the Yearly Transition process anytime on or after 7/1/2022.
Prior to running the process
If you have been reconciling your accounts every month, then it should be easy to reconcile them all at the end of the year. If you haven't, then you will need to take a little more time to reconcile everything.
Click on Process the Transition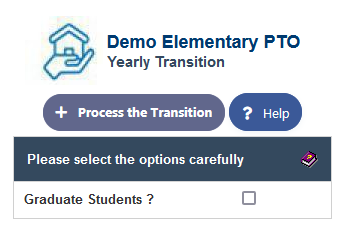 Graduate Students ?
This will graduate the Students to the next grade.e.g A student in 3rd Grade will be moved to the 4th Grade.
It will delete the Graduating class's data. e.g If the 5th Grade is the Graduation class, all the Student Data related to the Graduating class will be set to inactive and then deleted. If you do not select this option, the student data will not be changed.
After the process is completed
The fiscal year will be changed to the new fiscal year e.g from 2021-22 to 2022-23.
The ending account balances on the Balance Sheet of the previous financial year will be transferred to the account opening balances on the new financial year.
After this is done, exit the application and log in again.
You can then start entering transactions (deposits, withdrawals, and transfers for the new year.