The end of the fiscal year is a hectic period for accounting and for graduating students in the Student Directory. It is crucial to properly close the books for the current fiscal year and prepare for the next, to ensure a smooth transition from one year to the next.
To access the yearly transition, click on the "Yearly Transition" option in the Administration section.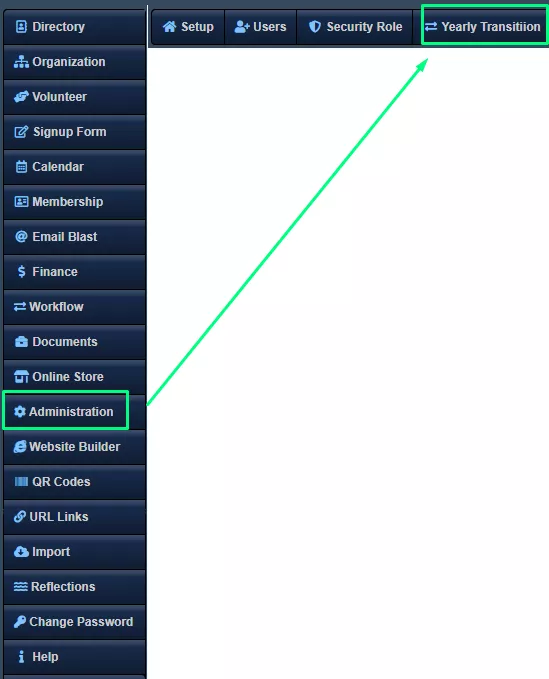 Conducting the Yearly Transition in RunPTO
The yearly transition process allows you to advance students to a new grade, perform cleanup, and update the financial settings in the Finance module to the current fiscal year. This process should be completed once the school year has ended.
There is no need to immediately conduct the yearly transition as soon as the fiscal year ends. For example, if the current fiscal year is 2021-22 with a financial start date of 7/1/2021 and end date of 6/30/2022, the yearly transition process can be run anytime on or after 7/1/2022.
Preparing for the Yearly Transition
Before conducting the yearly transition, it is important to reconcile your accounts. If you have been regularly reconciling your accounts every month, the end-of-year reconciliation should be straightforward. However, if you have not been keeping up with monthly reconciliations, additional time may be required to reconcile everything properly.
Select "Process the Transition" to activate the transition process.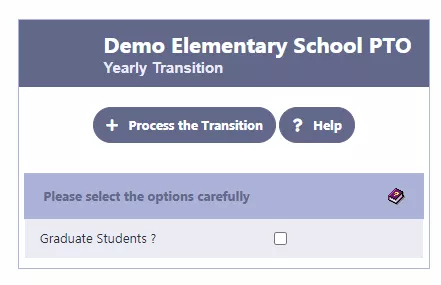 Graduate Students?
This option will promote students to the next grade level, for instance, a student in 3rd grade will move to 4th grade. It will also erase the data of the graduating class. For example, if 5th grade is the graduating class, all the student information associated with that class will be set to inactive and then deleted. If you opt not to select this option, the student information will remain unchanged.
After Yearly Transition Process is Completed
After the Yearly Transition process is done, the fiscal year will be updated to the new one, for example from 2021-22 to 2022-23. The previous year's ending balances on the Balance Sheet will be transferred to the opening balances of the new year. Once the process is completed, log out of the application and log in again to start entering transactions for the new year such as deposits, withdrawals, and transfers.