Membership Signup can be costly to maintain both in terms of time & money. Just a online link to PTO or PTA Membership signup should not be enough. The Membership directory should be instantly updated, Parents should be able to display/print their Membership cards. Also the system should instantly know how much money is collected at any point in time so fraud is extremely difficult. With a single software option, all updates should be available in real time with no printing expenses.
Managing your PTA or PTO online means offering your members a convenient way to pay their membership dues. Also there should be flexibility to allow members to pay in cash or check.
RunPTO makes it very easy to allow your members to signup and collect membership fees for your PTA or PTO.
Steps to setup your PTO or PTA Membership Signup campaign with RunPTO
1. Setting up Online Membership Signup Form
Go to the Admininstrator and in the Membership Setup, add the amounts you are going to charge for Membership Fee. Additional Membership fee within the same family can be the same or less. Also check what you need to include or exclue on your Online Membership Signup form.
If you are a PTA, you can setup what amounts go to your PTA. your State PTA and National PTA. This will make reporting extremely easy.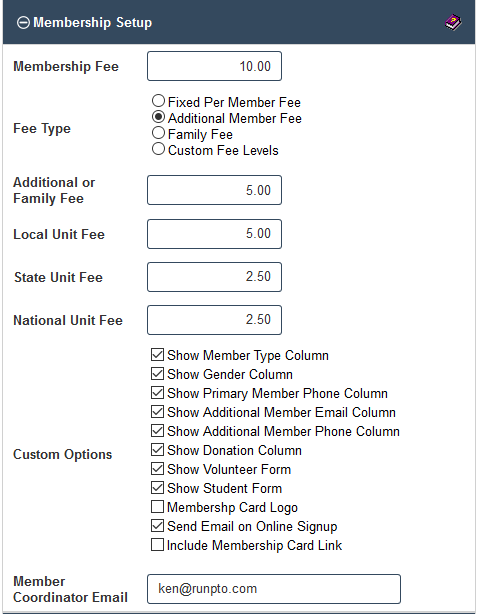 2. Set up your Payment Gateway
There are 2 selection options to collect your membership fees online. 1 is with Stripe at www.stripe.com and the other with Paypal at www.paypal.com
A member can also sign up by choosing to pay by check or cash.
Also a Member Administrator can also add/edit the information manually in the Member Directory.

You will need to set the up the Stripe Account or Paypal Business account if you are going to accept payments online.
Note RunPTO does not collect payments. Your money directly goes to your account at Paypal or Stripe.
Look up the Knowledgebase link below for more details
Membership Setup
After the setup is done, you are all set to collect payments from your members in your Paypal or Stripe account.
3. Advertise your Membership Signup Form
URL Links
Go to URL Links and select Membership Signup as your Application. You can distribute this link via email.

QR Codes
Go to QR Codes and select Membership Signup as your Application. Pin this on your school walls so that parents can scan it and directly go to the signup form.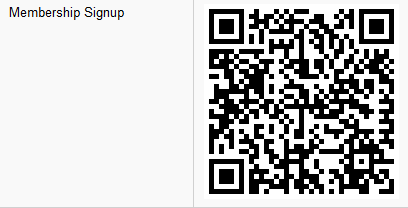 Website
Embed it on the Website with the Website Builder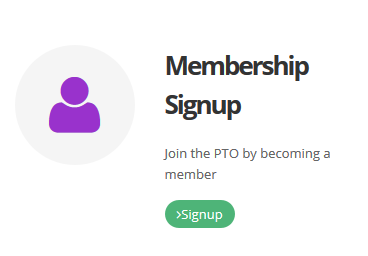 Social Media Links
Post this link on your Twitter or Facebook pages so you can get the attention of parents to sign up as members
4. You are all set to start your Membership Campaign
Parents can use any of the options above to get to the Membership signup form.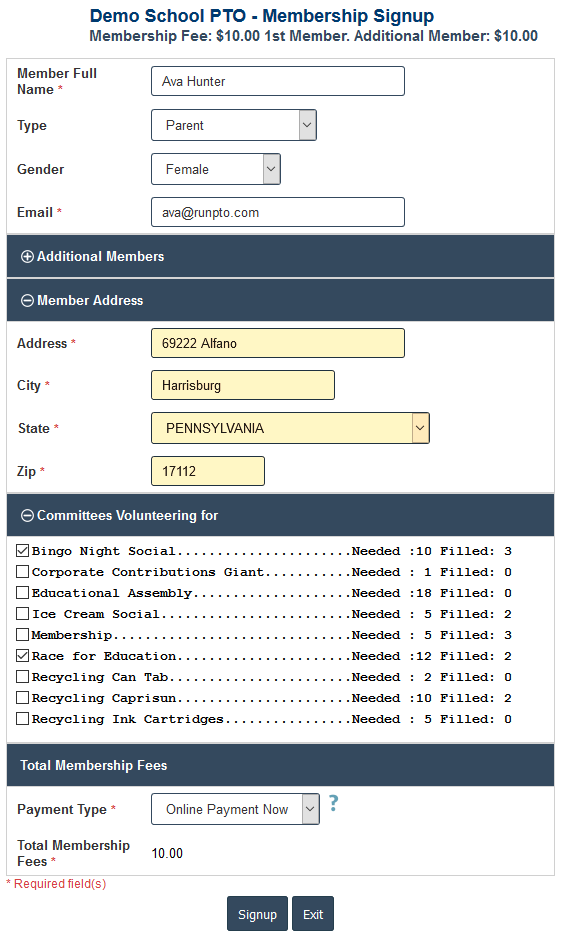 Payment Gateway
Stripe Setup
Go to www.stripe.com and open your Stripe account
After your Stripe account is opened, go to the Dashboard, then click on Developers and then API keys. Copy the Publishable Key and Secret Key from the Stripe Dashboard.
Copy the Publishable Key in Key 1 column and Secret Key in Key 2 column of your school setup.
Save and exit RunPTO. You are all set to collect Membership Fees from your Members. You can also use test keys to test by creating dummy signups to see how it all comes in before you go live.
How Stripe will appear to the Membership Signup user
1. The following screen will appear on signup.

2. Clicking on Pay With Card will bring up the following screen with your own school name.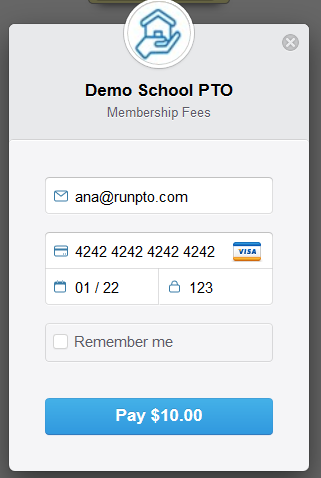 3. The following screen will appear after the payment is successful

4. This is how it will appear in your Stripe account.

5. This is how it will appear in your RunPTO Membership directory

Distribute Membership Cards with QR Code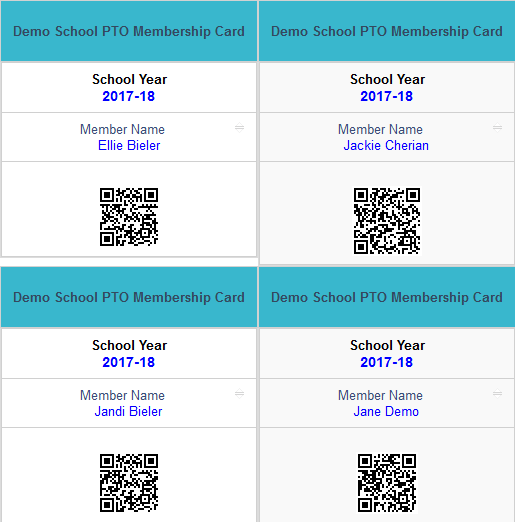 Comprehensive Membership Reports
Membership Directory
Membership Directory has a lot of reporting features to provide a complete insight in your membership campaign.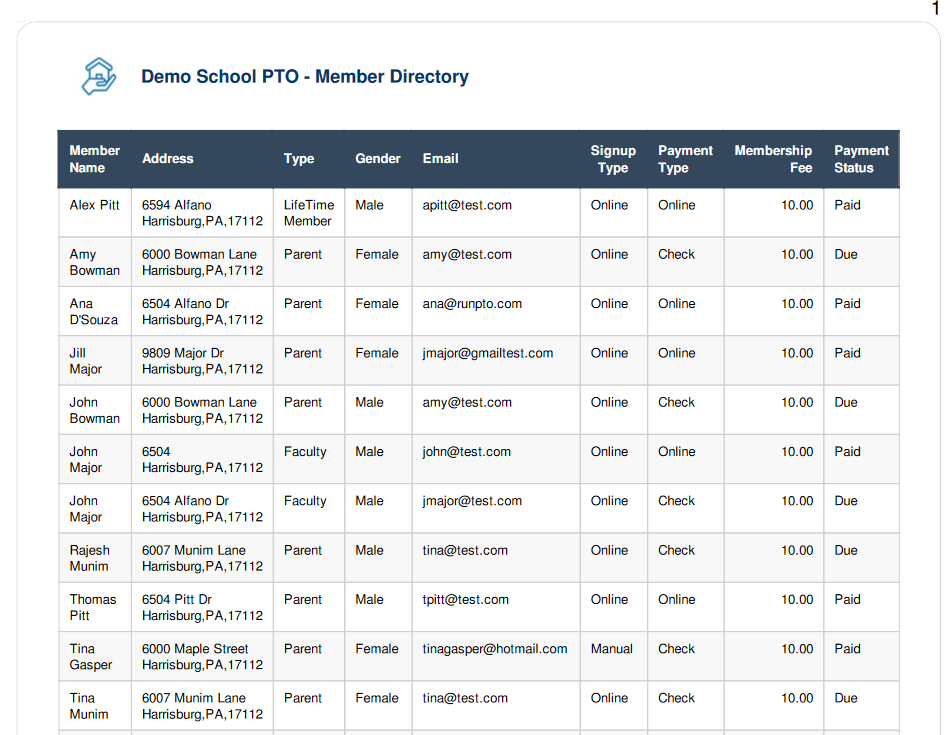 1. Use Columns to add or remove columns from the report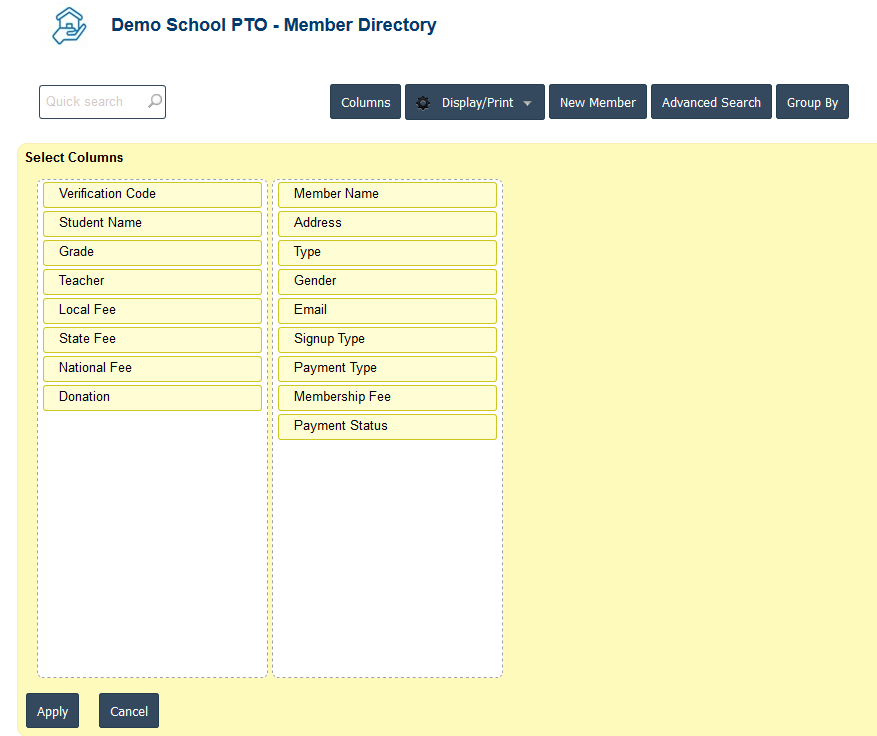 2. Group By Report based on Type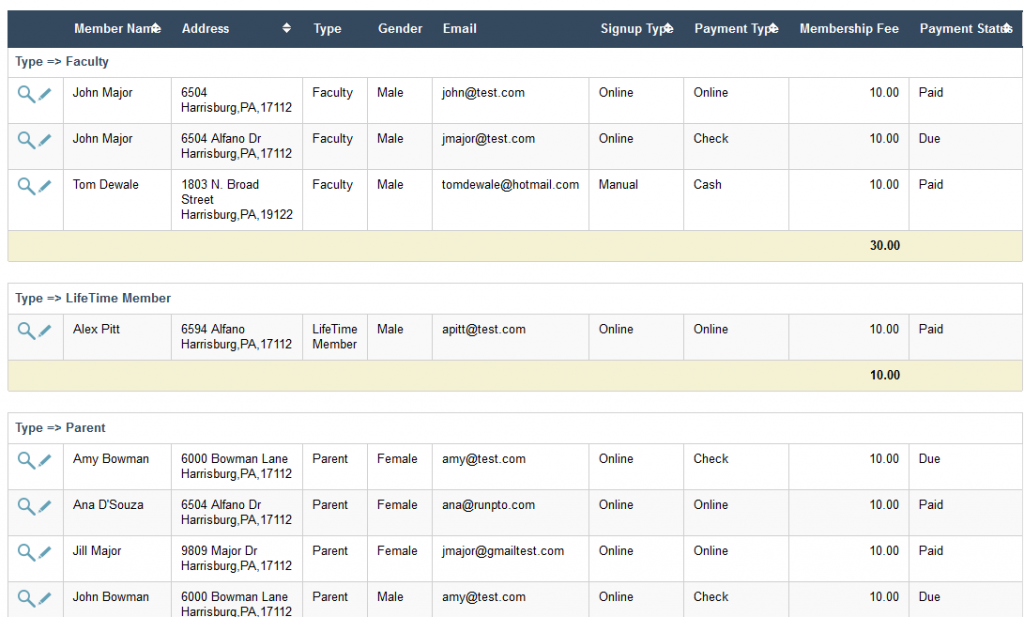 3. Group By Report based on Gender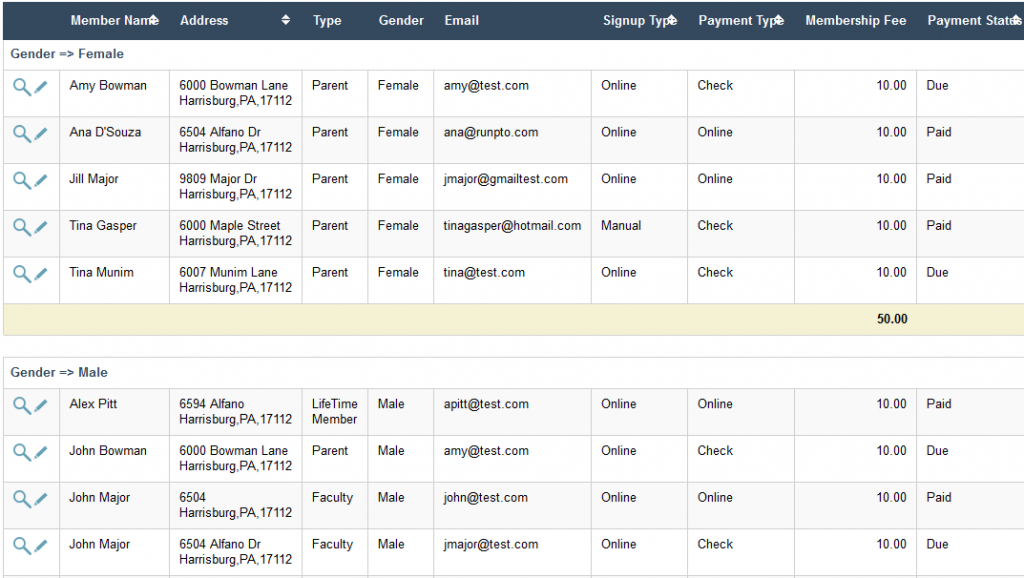 4. Group by Report by Payment Status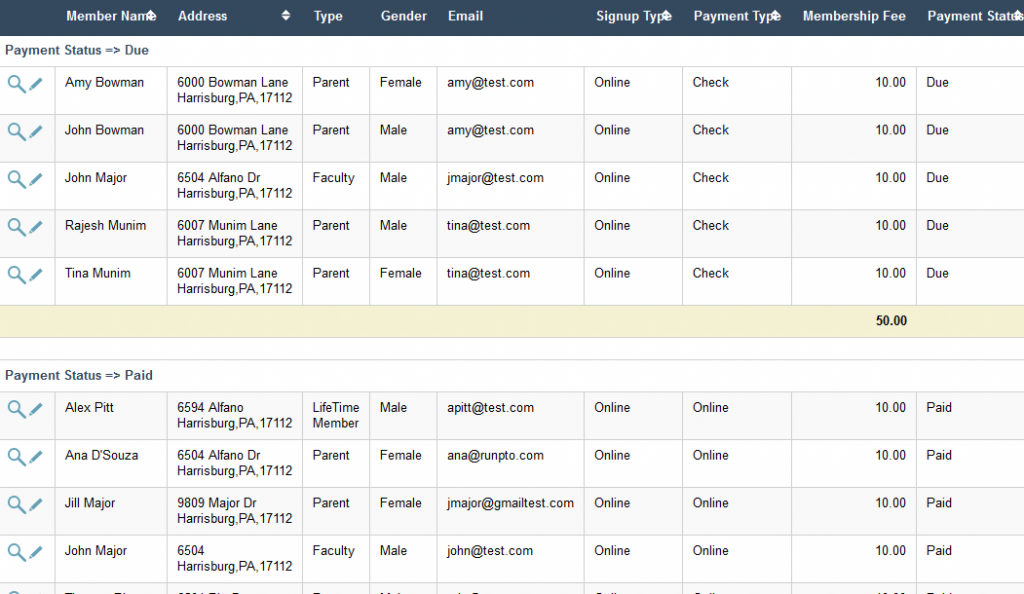 5. Summary Report

6. Graph of the Summary Report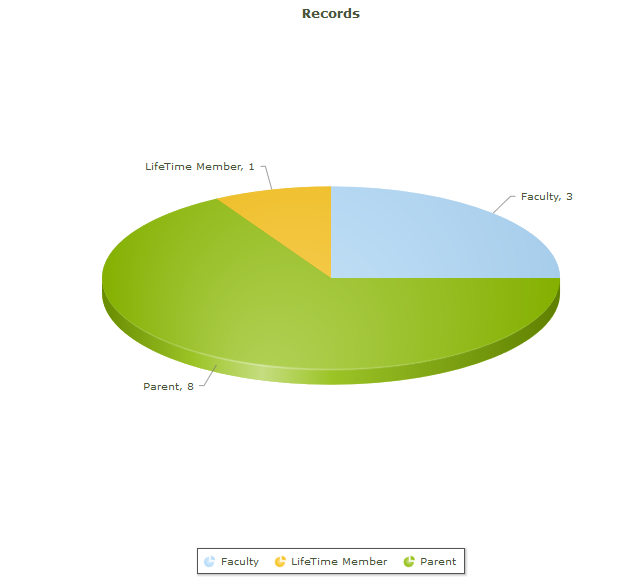 7. Display/Print to export the data to a PDF, Word, Excel or for the print output.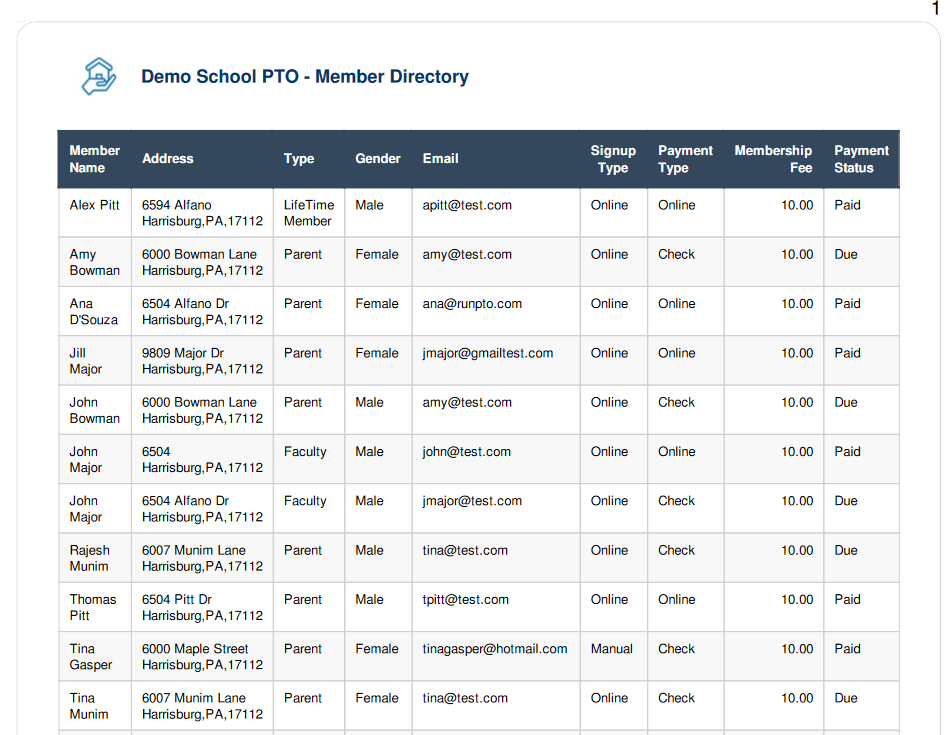 Online Membership Signup Form is a feature of RunPTO by CloudInfoSystems