Intelligent and Intuitive Website Builder
RunPTO has specially designed a powerful Website Builder for a PTA Website or PTO Website or PTSO Website. The entire process should not take more than a few minutes once you populate the content you want on the website.
Firstly, the beauty of RunPTO Website Builder is you do not have know HTML, CSS, Javascript, WordPress or any of the technical jargon. Secondly, you do not have to hire a professional paying hundred of dollars. Thirdly, Any of the volunteers assigned can enter the content and manage the website. You can change that content anytime you want at the press of a button.
The Website Builder produces bootstrap code which is ultra fast and is responsive on all devices..Desktops, Tablets and Mobile Phones. The Website Builder allows you to connect to any of the RunPTO Feature links:
Membership Signups
Volunteer Signups
Event Signups
Newsletters
Meeting Minutes
Student Directory Registration
Student Directory
Online Store
Calendar
Check out the Demo PTO Website made with the Website Builder.
Steps to get started
Here's how to get started. Go to RunPTO and click on the Website Builder. Then click on each of the tabs.
1. Location
The Website Location columns shows the location where your website is hosted for free. Also you can avail yourself of free website templates.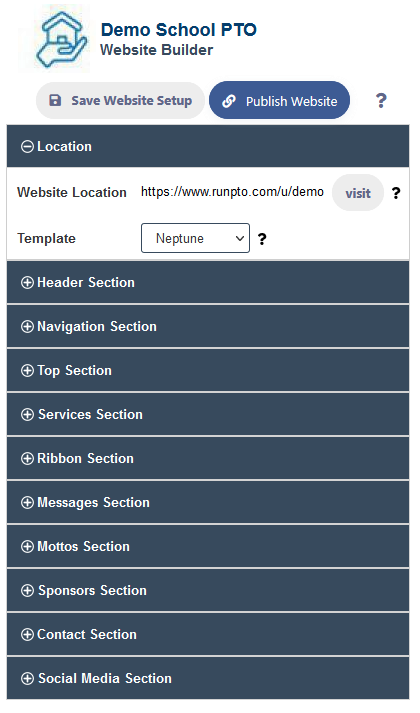 2. Header Section
Enter your organization name in the Header Name column. It will be displayed on the website on the top bar. The Address Line 1 , Address Line 2 and Contact Email will be displayed in the bottom bar. The Contact Email will be used on the Contact Form to receive emails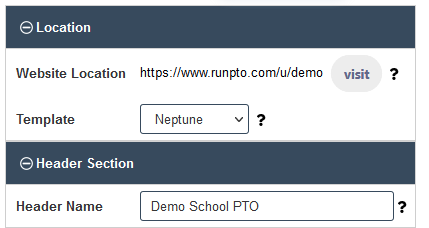 3. Navigation Section
You can add upto 3 Menu links from the list of Menu Links. Add a title for the Menu Link.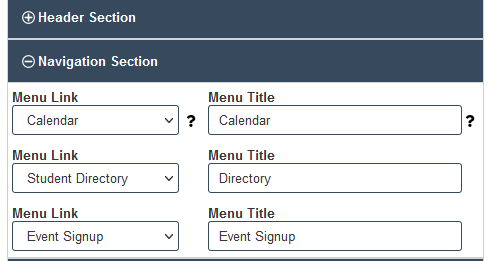 4. Top Section
Add text to the top left corner of your website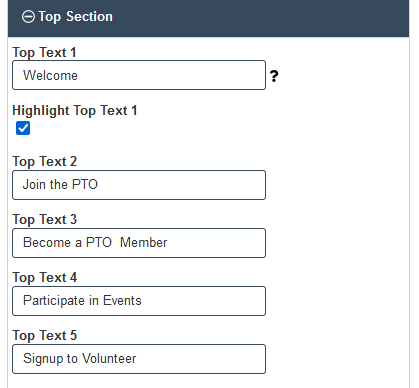 5. Add Images
Add images which will be used as image sliders to the top right corner of your website. If you do not add the images ,the default slider images will be used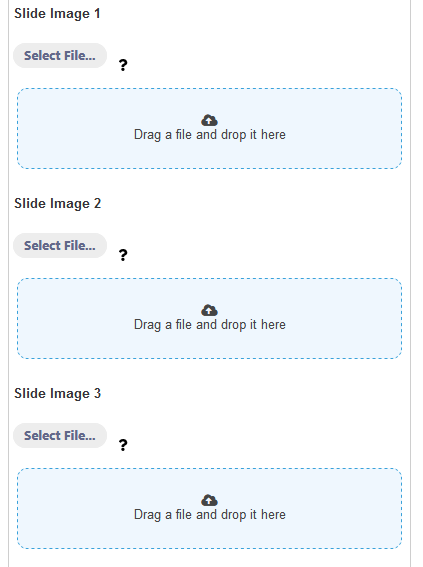 6. Service Section
You can add up to 9 service types. Add a title and description for each service type.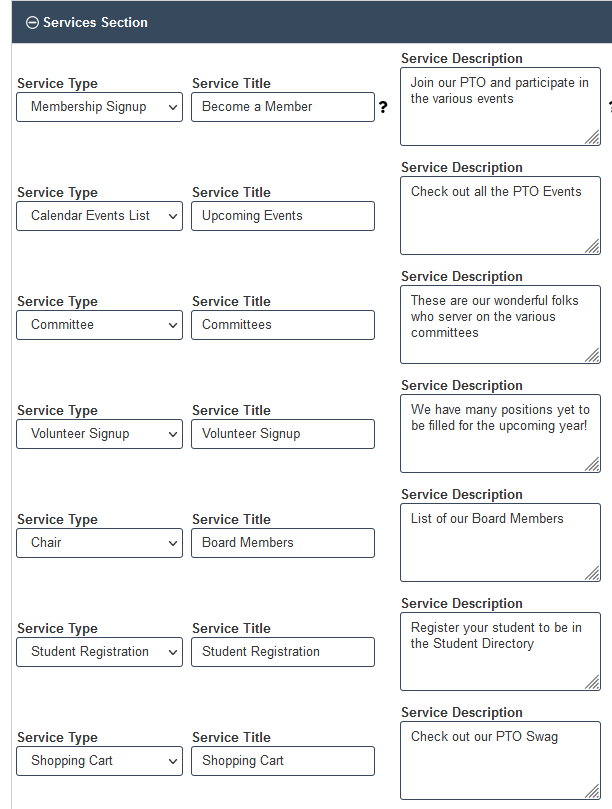 7. Ribbon Section
The Ribbon section can be used for the display of Newsletters, Meeting Minutes or any other links.

8. Mottos Section
Display your school mottos in this section.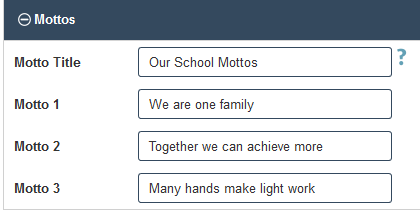 9. Sponsors/Fundraisers Section
You can add up to 3 sponsors/Fundraisers here with a image and their URL link. You may use this section for other purposes.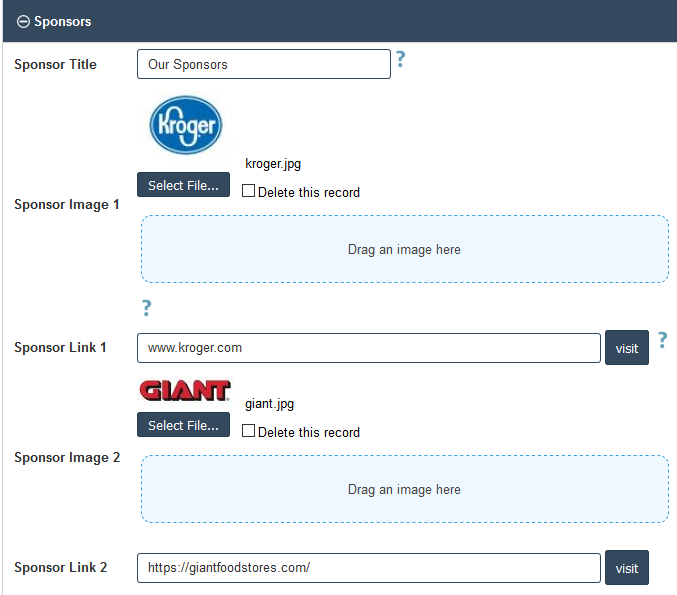 10. Messages Section
You can add up to 2 message boxes. e.g 1 can be for the President's Message, the other can be for the Principal's message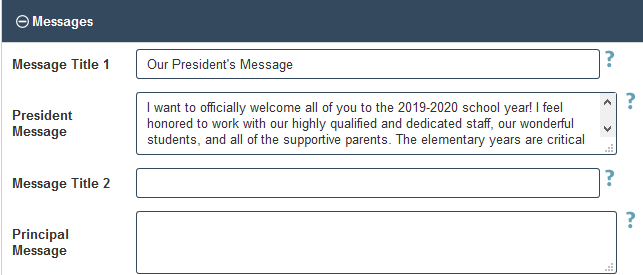 11. Contact Section
The Address Line 1 , Address Line 2 and Contact Email will be displayed in the bottom bar. The Contact Email will be used on the Contact Form to receive emails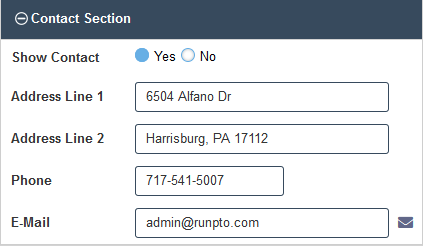 12. Social Media Section
Add a Photo Gallery from Flickr or other sites. Add the URL for FaceBook, Twitter or Pinterest if necessary.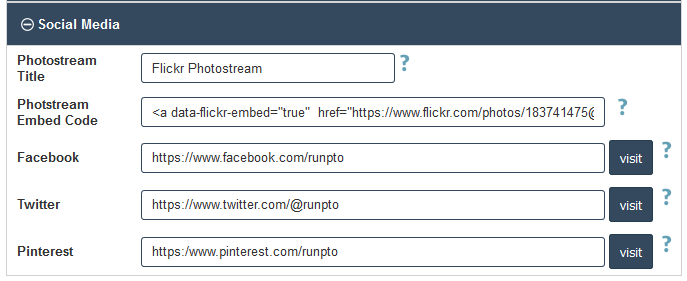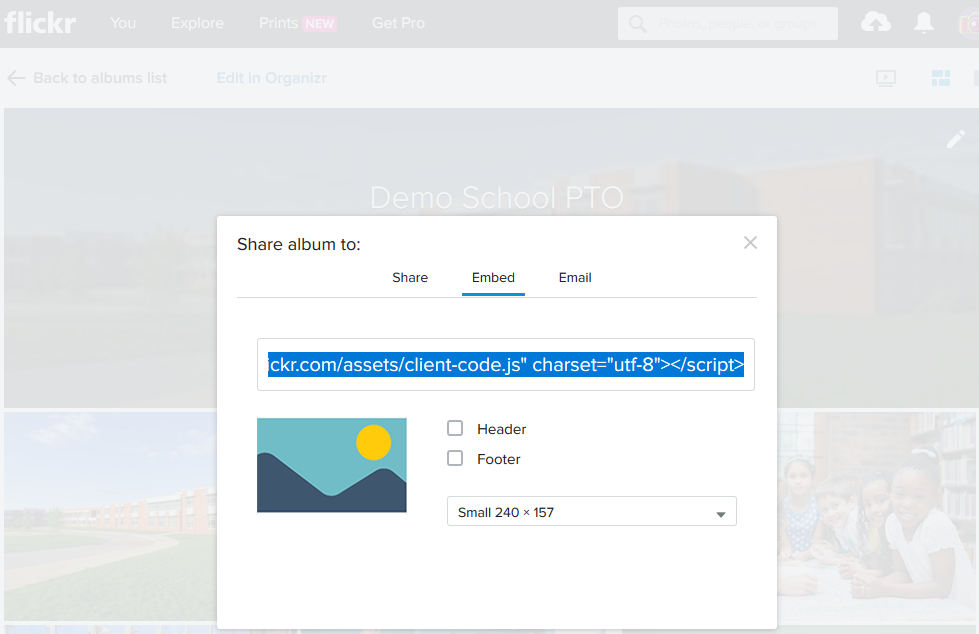 13. Click on Publish Your Website


You will be redirected to the website which is created instantaneously. This will be a responsive website which will work on Desktops, Mobile or Tablets.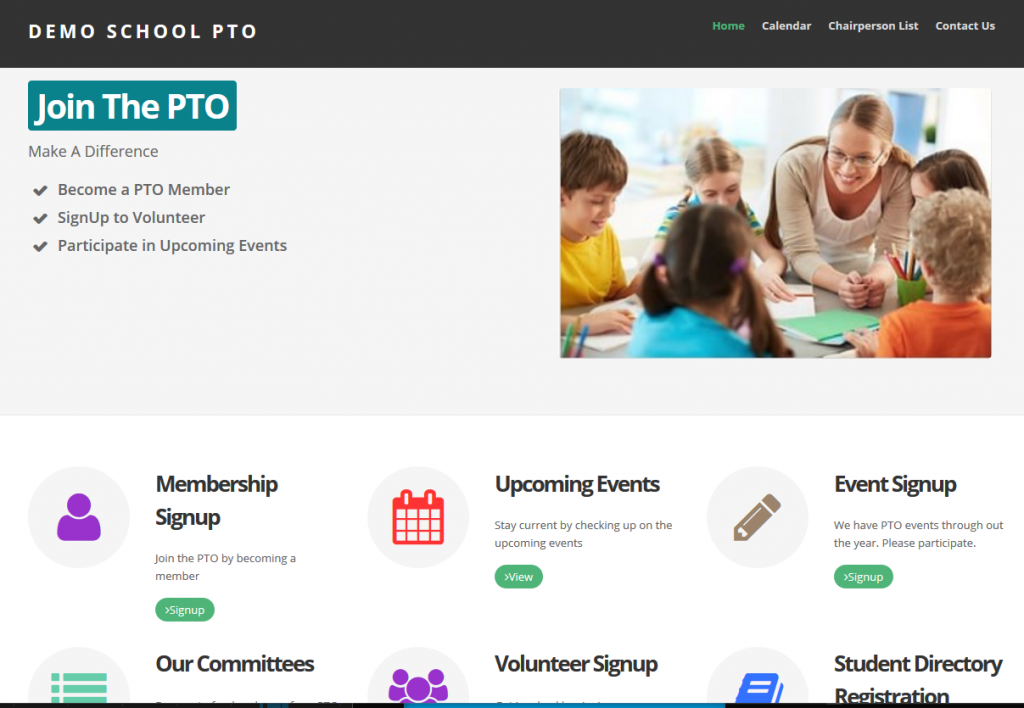 Finally, RunPTO also includes many other features besides the PTO/PTA Website Builder at a low fixed cost
Each of these features are a powerhouse and fully integrated. You will not need another vendor. In its class, RunPTO has the best price for all of its capabilities. And the cost is just $299 per year for all features.
Accounting/Finance Manager
Student Directory
Volunteer/Event Signups
Membership Signup
Calendar
Documents Management
Email Blast


All of this is included with secure communications and a enhanced security module with security roles and a comprehensive Knowledgebase
If interested, sign up here.
PTA/PTO Website Builder is a feature of RunPTO by CloudInfoSystems
Read More: Website Builder
Read More: Website Builder Knowledgebase