New user registration allows other PTO members to register themselves on RunPTO, giving them access to the Parent Portal as determined by the administrator. The Parent Portal offers view-only access to the student directory, teacher directory, list of chairs, list of committees, volunteer signup, calendar, membership signup, finance statements (such as an income statement), and documents (such as newsletters and meeting minutes). It also includes access to expense forms and other resources.
New user registration requires that the user's email be listed in the member directory as a paid member or in the student directory, depending on the organization's setup. If you want to be a user on RunPTO for your PTO, please check with your administrator to ensure that you are a registered member or that you have registered to be included in the student directory.
Clicking on New User Registration on the login screen brings up the following screen.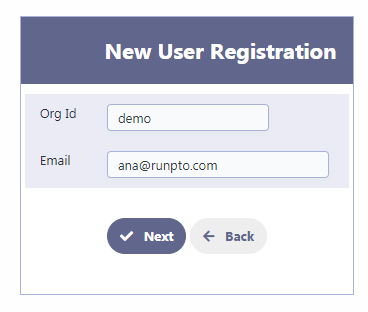 Follow the process by clicking on Next and then use your Org Id, User Id and Password for RunPTO access.
Here's a example of a typical Parent Portal