Click on the Administration/Setup option in the Menu for Initial Setup.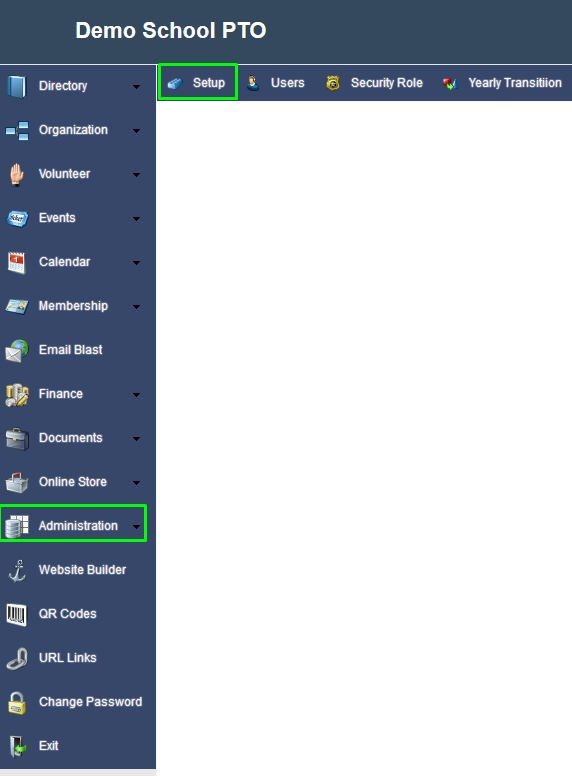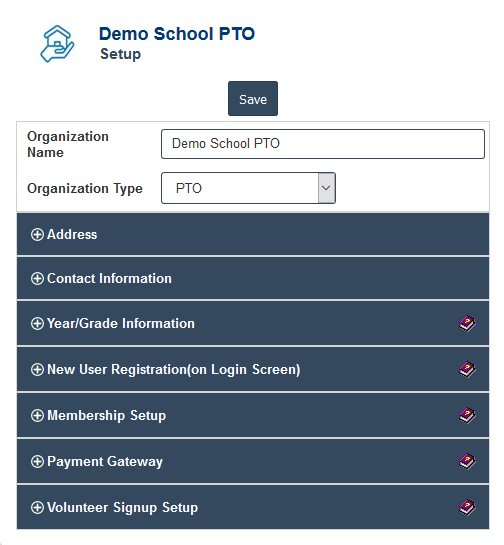 Organization Name and Organization Type are filled up from the information that was given during Sign Up.
Make the other needed changes as required by expanding the tabs.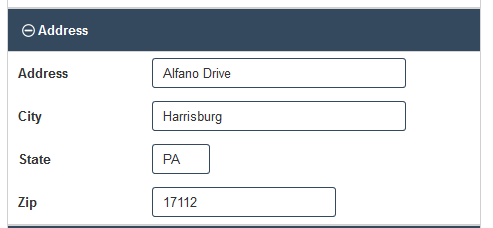 Enter your Organization Address, City, State & Zip

Enter Contact Name, Phone, Email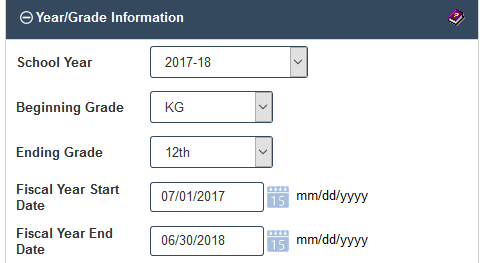 Enter the Beginning Grade, Ending Grade.
When you signup , the School Year, Fiscal Start Date and Fiscal End Date are set for the year you signup.
The Fiscal Start Date & Fiscal End Date for your School which is typically 1st July of the School Year till June 30th of the School Year. This should not be changed once set and would be changed only with Year End Transition.

Who can Register Online?
Any User who registers on the New User Registration option on the Login Screen will be restricted by the setting here.
Note: An Administration can create users outside of this setting, overriding this setting. This applies only to Online New User Registration.
There are 4 Settings.
1. You can disable New User Registration
2. You can restrict it to all members who have signed up.
3. You can restrict it to members who are parents only
4. You can restrict it to all parents in the Student Directory



Default Role for New User Registration
Default Role is the Security Role to be assigned to new users when users sign up online. This should be a role with limited privileges. Look up Create Security Roles in Administration for more information.
You can create Security Role which is restricted to certain modules like Student Directory, Volunteer Signup, Member Signup, Calendar and name it as a Parent Portal.
Roles with Administrator Privileges should not be set as the default role

Some of the information in the subsequent tabs can be set up later as needed..
Membership  Setup is discussed in more detail int the Membership section. You can add the fees based on your Fee Type for your Membership Collection and also control the display of certain columns on the Membership form.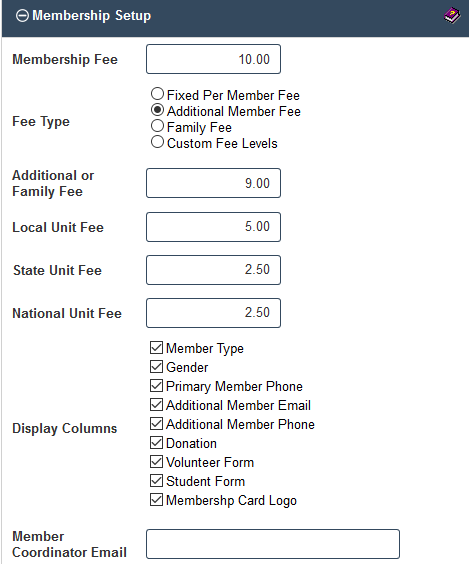 Payment gateway is where you set the Stripe or Paypal gateway with their keys if you want to receive direct online payments for Membership or Shopping Cart. This is also explained in more detail in the Membership Setup section.

Volunteer Signup Form Type: There are 2 ways Volunteer Signup Form can be presented on the screen. You have the option of showing all the committees or only committees where volunteers are needed. If you select 'Show Available Committees' then you will need to go on the Committees and enter the number of volunteers required.

Volunteer Coordinator's email if they want to receive email on every volunteer signup.

Next steps to proceed in the Knowledge Base:
Layout your Organization Structure

Set up your Board/Chairperson List and Committee List in Organization module
Decide who will be assigned to what task in RunPTO and accordingly create the Security Roles.

Create the Users and assign the Security Roles to them.
Setup up your Calendar Events for the School Year
You can get your website up and running with the Website Builder
Get Volunteers to sign up for your various committees with Volunteer Signups and distribute it via UR links using Email/Text or embed it on the Website or print QR Codes.
If you have a PTA/PTO Event coming up and want parents to sign up for the event , you can create a Online Event Form and distribute it via UR links using Email/Text or embed it on the Website or print QR Codes
The Treasurer can start setting up the Chart of Accounts with the Finance Manager.
The Student Directory Administrator can get started by sending URL Link via Email/Text or embedding in the Website for Student Directory Registration.
The Membership Administrator can get started with Membership Setup
The Document Administrator can start the upload for Newsletters, Meeting Minutes and other documents.